CIC Socks for 2005
Most of these socks were made with worsted-weight wool yarn on (U.S.) size 5 needles. They begin with 28, 32, or 36 stitches and should fit toddlers and small children.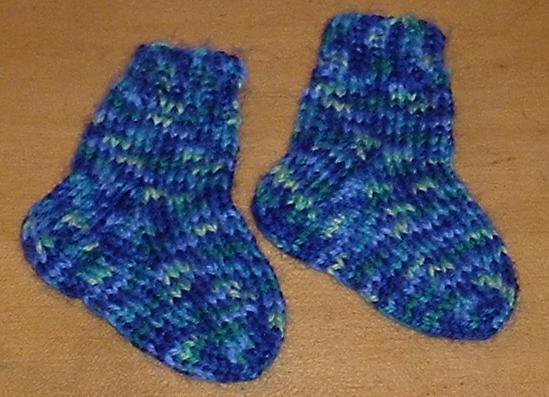 These were made from less than a full skein of Stahl Big Print yarn, I learned from last year that I'd probably run out if I made them with 36 stitches, so I used 28 for these. I do enjoy using single skeins of clearance-priced yarn!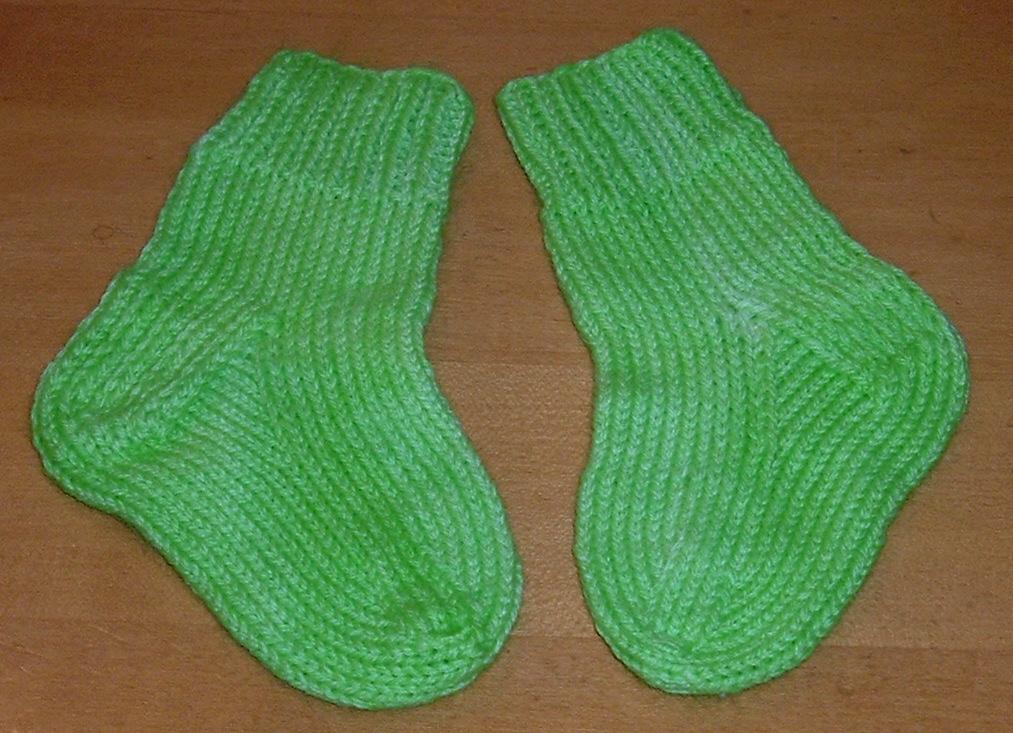 These were knit with Paton's Classic Wool in white. One stormy day when the electric was out and I was bored, I put them in a bowl with 2 packages of lemon-lime KoolAid powder, water, and a swig of vinegar. After the electric was restored I microwaved them. Now they are bright green.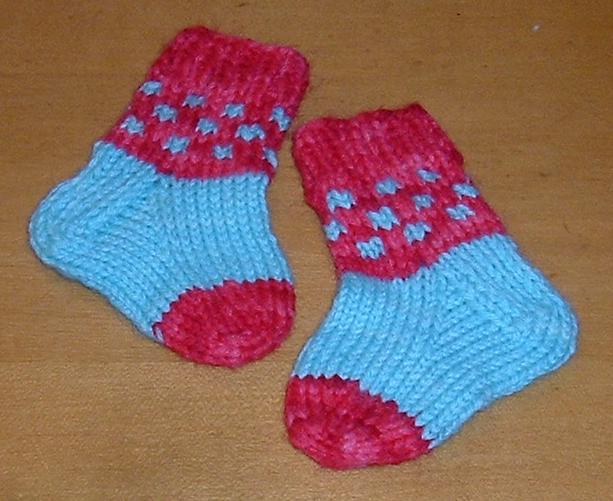 KoolAid-dyed yarn left over from last year. The pattern developed as I went along. The slip stitch pattern gave a dimpled effect on the checks.

While I started with 28 stitches, it can be knit on any multiple of 4 stitches.
After the ribbing knit two rounds in first color.
With second color *knit 2 stitches, slip 2 stitches* around for 2 rounds.
Knit 2 rounds with first color.
*Slip 2, knit 2* around with second color, for 2 rounds.
Knit 2 rounds with first color.
With second color *knit 2 stitches, slip 2 stitches* around for 2 rounds.
Knit 3 rounds with first color, ending first color.
Knit 1 round with second color, begin heel and work until toe with second color.
Knit toe in first color.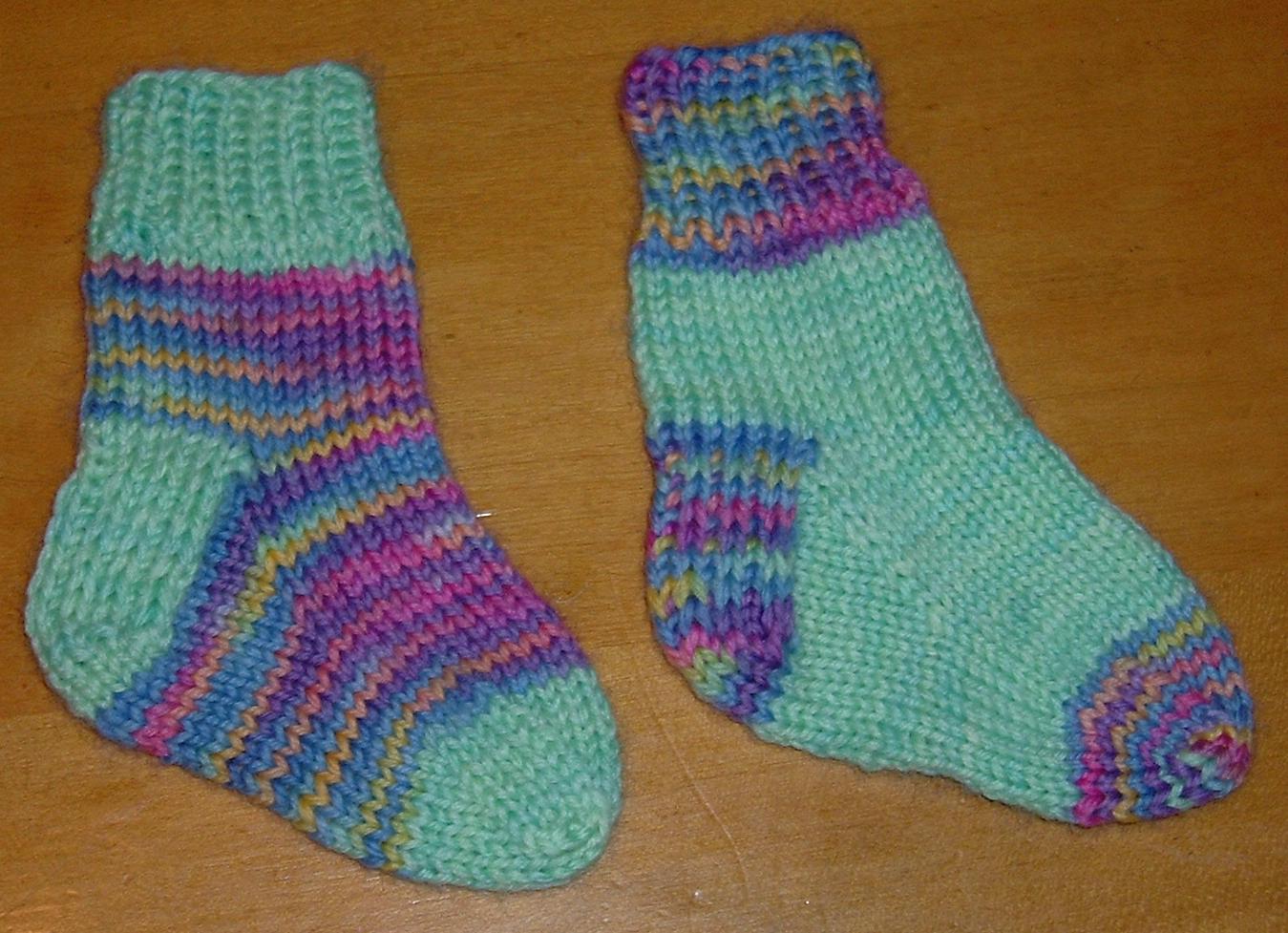 Fraternal Twins socks of Lorna's Laces worsted-weight yarn.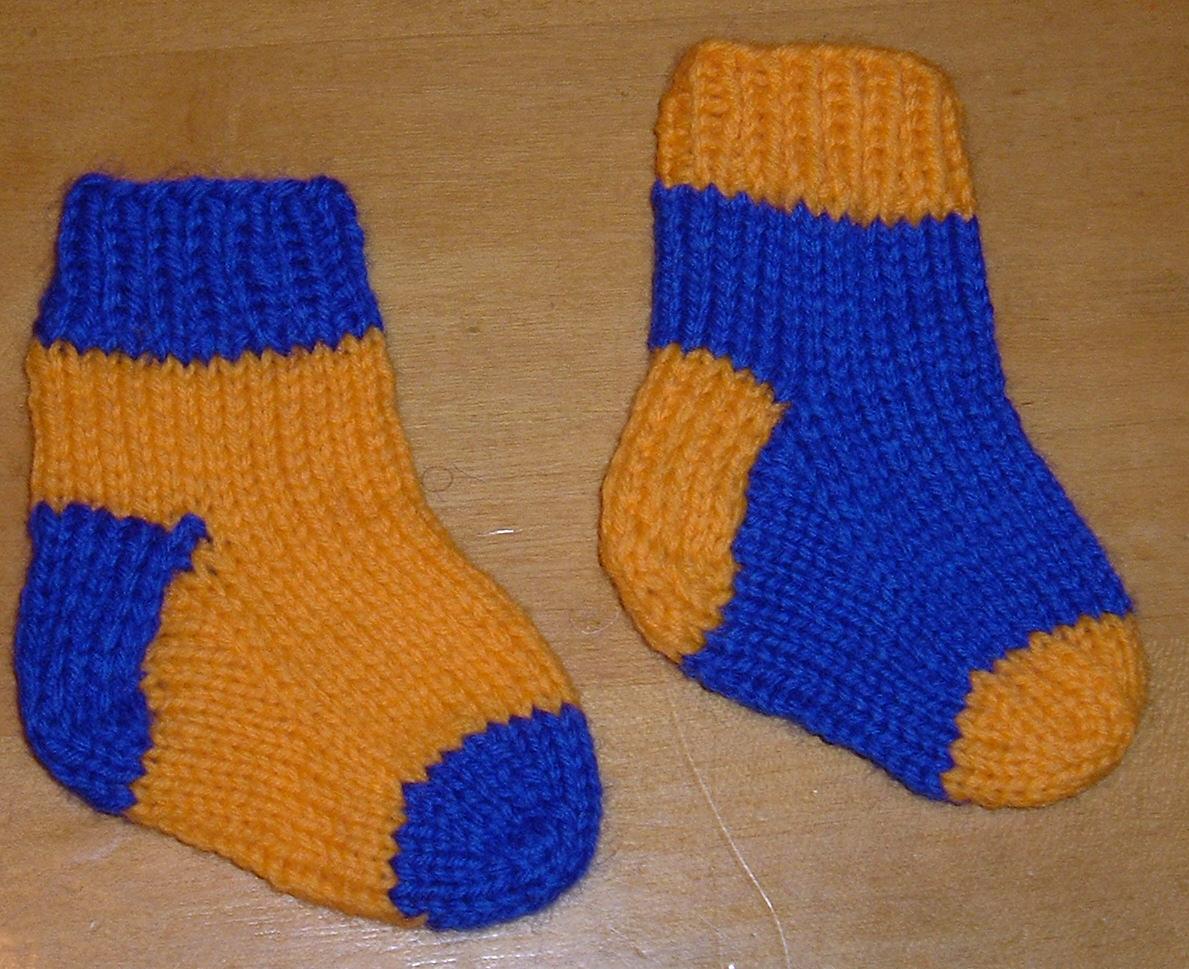 I found a large bag with the old Red Heart mini (1-ounce) skeins at a thrift store. I didn't want to run out of one of the colors, so I made these fraternal twins socks.
I know these are "Michigan" colors. I should find some scarlet and gray yarn and make competing socks. Hmmm...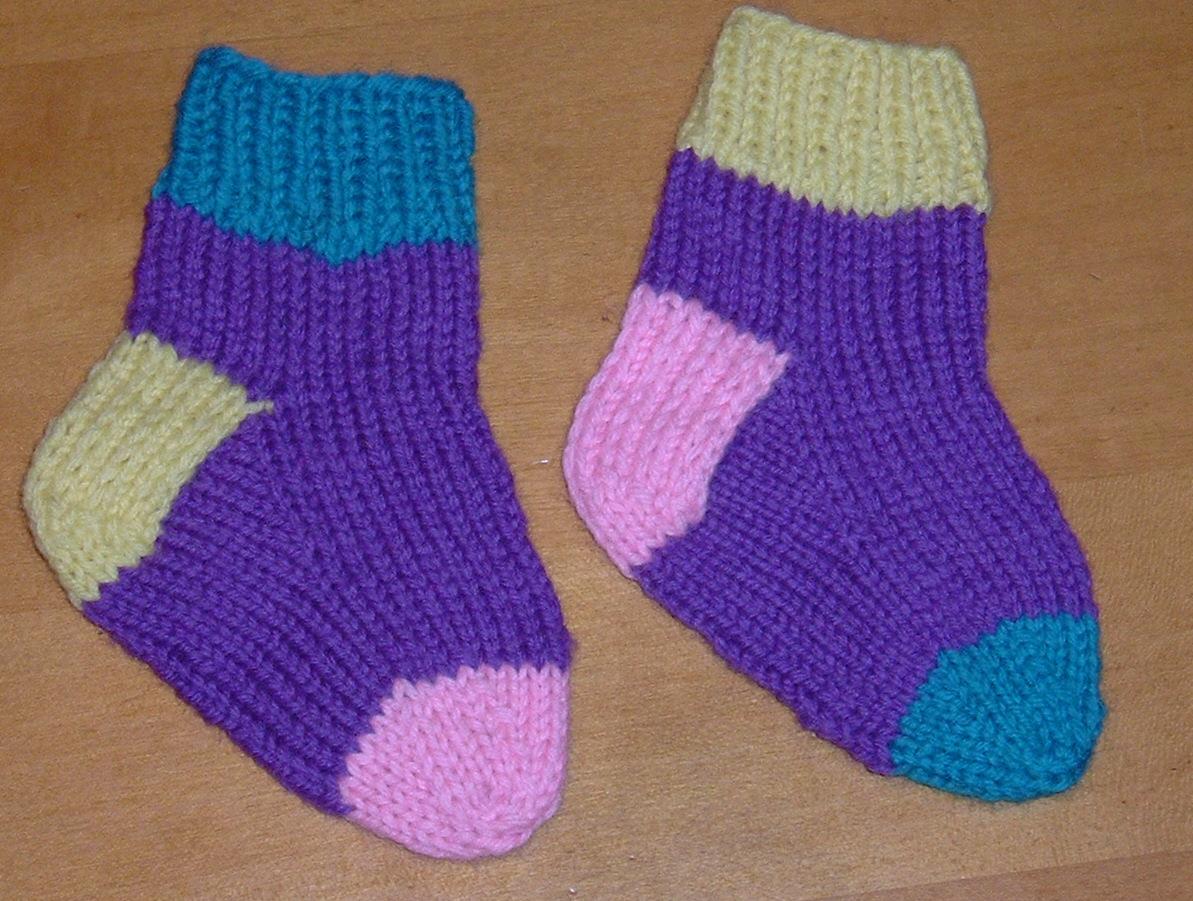 More of the mini-skeins. A whole purple one, with lesser amounts of the other colors.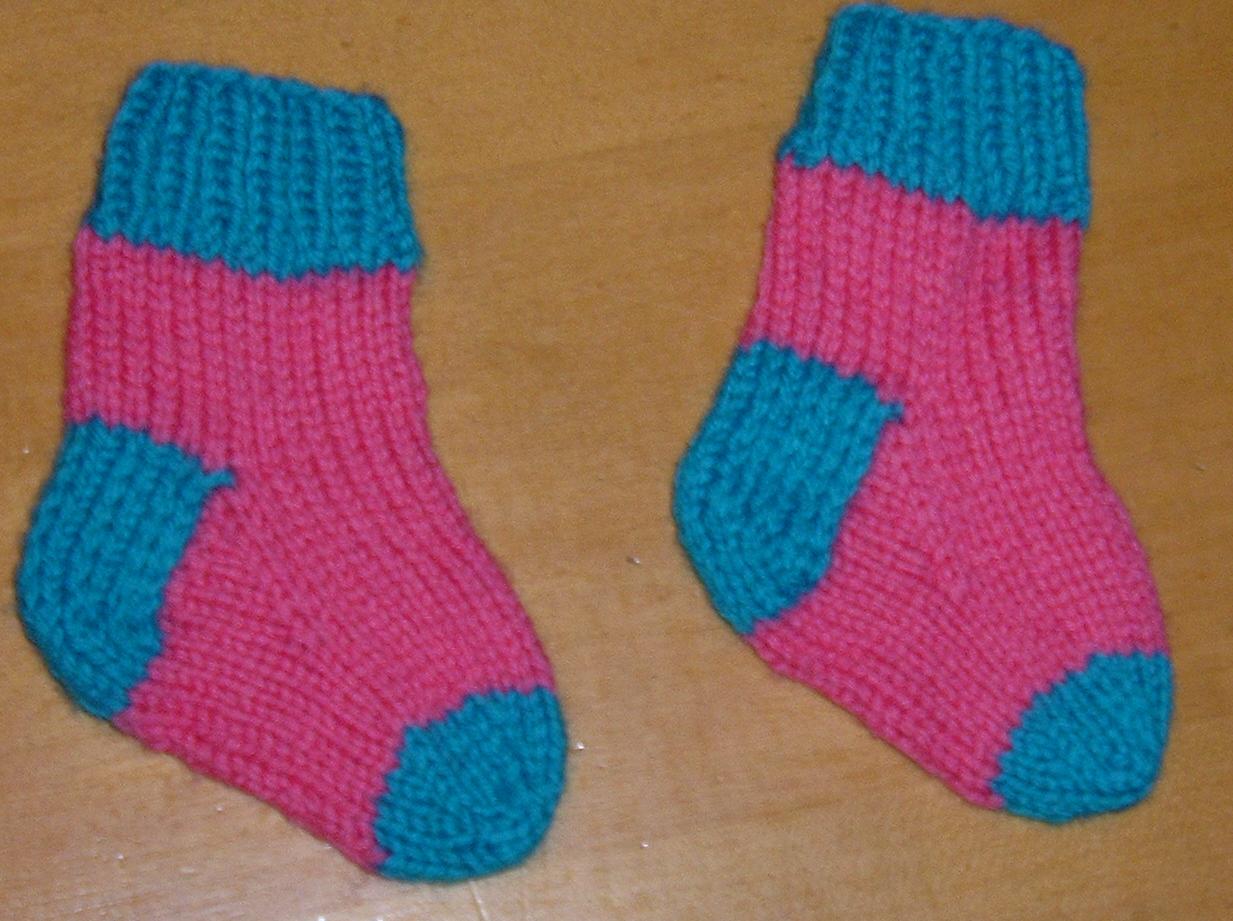 I like the watermelon color. It's brighter than in the picture!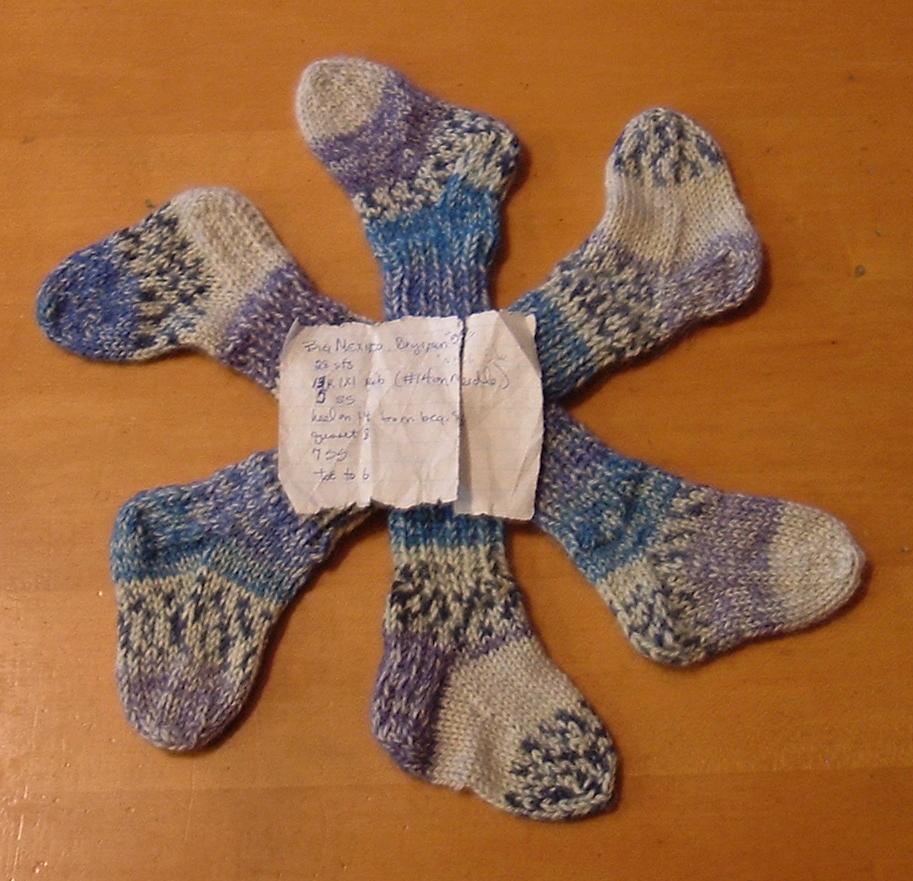 I found some skeins of Big Mexiko in the clearance bin. Three were of the same color and dye lot. These were made from 2 of the skeins. As this yarn has areas of alternating color and areas of solid color, these were interesting.

The beginning of one sock did not match the beginning of the previous one. So I decided to knit several pair with the same pattern so they could all be interchanged. In the center is the note I carried with my knitting, to make sure the socks matched the first one I made (without having to count rows on a finished sock every time I made a new one.)

It reads "Big Mexico, Bryspun '5'
28 sts white blue
13 R 1x1 rib (#14 on needle)
5 ss
heel on 14 from beg. st
gusset 8
7ss
toe to 6"

In other words, on Brypsun size 5 dpn, the socks begin with 28 st, there is 13 rounds of ribbing, 5 knit rounds before beginning of the heel, 8 sts picked up each side for gusset, 5 rounds of knitting AFTER last gusset decrease, toe decreases begun, end with 12 stitches (6 on top needle, 3 on each of the others.) At least that's how it reads to me!